best buy
dolphin s100 pool cleaner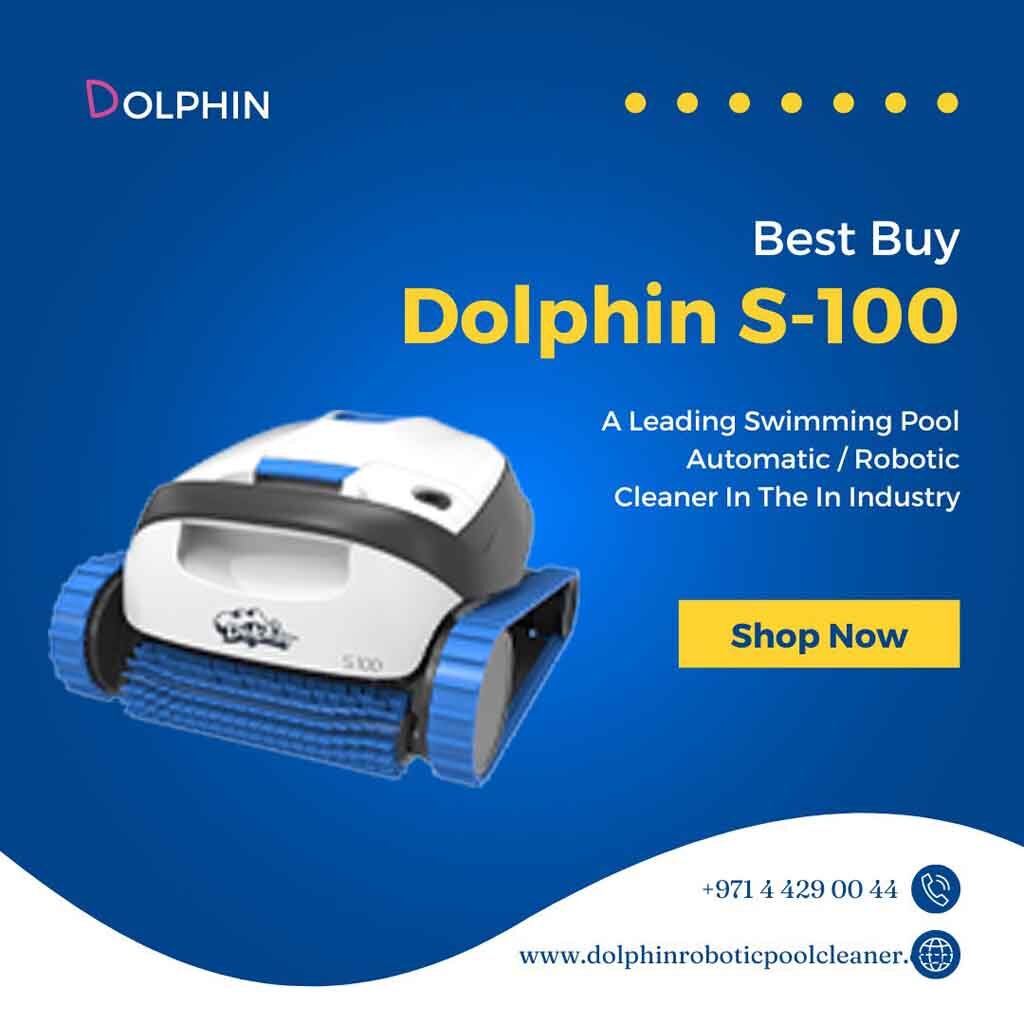 choose the dolphin s100 for your pool
If you're looking for a reliable dolphin s100 pool cleaner dealer in Dubai, you've come to the right place. We're one of the leading suppliers of dolphin s100 pool cleaners in the UAE, and we're committed to providing our customers with the best possible products and services.
We know that buying a pool cleaner is a significant investment, and we want to ensure you get the best value for your money. That's why we offer a wide range of products to choose from, and we're always happy to answer any questions you may have about our products or services.
The  Dolphin s100 robotic pool cleaner thoroughly and efficiently cleans your entire pool without you having to make any effort. It will clean every last corner thanks to its advanced technology. In addition, it offers excellent value for money.
The Dolphin brand is recognized for its products' quality, reliability and performance. The S-Series series is recommended for professional and private use since it offers maximum autonomy. They are devices designed entirely ergonomic to facilitate their extraction from the water. You can easily remove it since it is a very light device that only weighs 6.5 kg.
dolphin s100 technical specification:-
Robot limpiafondos Dolphin
Dolphin pool cleaner S100 is an automatic pool cleaner that can thoroughly clean pools with a maximum capacity of 10 meters. It is one of the complete models on the market despite being one of the most miniature pool cleaners of the brand. It also offers maximum performance. It can also clean walls and steps, and its small size facilitates action in the most challenging angles. Also, remember that the S100 pool cleaner is affordable for any pocket. You will require a minimum investment to enjoy professional cleaning in your pool. Check out our Dolphin s300 robotic pool cleaner.
Filter type S100
The Dolphin S100 pool cleaner has two types of filter quality that will help you maximize the cleanliness of your pool. The brand recommends using the fine filter (90 microns) for cleaning at the beginning of the season when the collection is dirtier (spring filter). This filter has a greater capacity to collect large dirt particles such as leaves or branches. Use the ultra-fine filter (15 microns) for subsequent maintenance during the season, as this filter traps the finest dirt.
S100 Pool Cleaner Installation
The Maytronics dolphin s100 robotic pool cleaner does not require installation, and its operation is independent of its installed filtering system. It has its energy and its filtration system. You will only need a standard electrical outlet and follow the safety instructions. Remember that in addition to saving with Dolphin S-Series pool cleaners, its electrical power system is low consumption.
Dolphin S100 Operation
Thanks to the advanced brushing system and the Cleaver Clean software, you will have the bottom and the walls of the pool totally clean in just two hours. The robotic pool cleaner performs an impeccable cleaning job. The intelligent navigation system programs an efficient work route capable of perceiving any obstacle. The brushing system is capable of removing even dirt from the waterline.